abeldb is a design and communication studio of Barcelona.
We conduct projects advising and coordination of
identity, campaigns, packaging, editorial design, web and much more.
Selection of 12 Featured Projects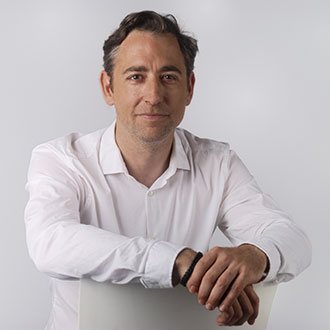 Art Director in advertising, Designer & Creative.
Art Director in advertising, Designer & Creative.
View profile
Satisfied with the service
We received the service in time,
within the agreed deadlines
Received a competitive service
The result meets your needs
Abel's work in the design and development of corporate identity of Marídame has been instrumental in laying the foundations on which to build a project, which offer an unconventional service, we needed powerful tools and imaginative communication.
But in addition to their excellent work, I would like to emphasize the closeness and empathy with Abel which has worked with us, making us feel that their involvement in the project went far beyond the strictly professional.

Leonardo González
driving of MARÍDAME
Very professional, with great results, the presence of the website is incredible compared to the previous one.
They are constantly in touch to show you the progress and make the designs according to your needs.
I definitely recommend them.

Raul Ballesteros
CEO of UNIVERSO GADGET
We were very pleased with the result because it is a comprehensive service that searches start from a good base for the rest of milestones and expectations they fulfill properly and then be simple to add or refine details.
All this took place in an environment of complete professionalism.
Alejandro De La Concha
Operacions director of CIS Corporate Europa
With their expertise not only achieved communicate ideas graphically, with his effort gives me strength and very grounded reasons to keep going.

Dra. Elena Ruiz Domingo
Doctor
Accurate view of our needs and flawless execution. We have obtained creative, amazing and effective results.
Total involvement in the projects that we have developed with abeldb.
Recommended!

Tristán Colín
Retail Director Spain at Pixmania.com
Abel's involvement in any of the projects we have been involved with me, is such dedication and concern that just endorsing the product and the challenge that you have in hand.
He stop being an external partner to become part of your team from the moment you spears challenging.
And never settle for the first solution that gives you.
Efficient, responsive and coherent.
David Casalprim
Founding partner of ESPAIBICI
The ability to give a demanding client responses (yes, there is to be recognized as one) is and has always been excellent.
The degree of professionalism so that the end result is satisfactory is a very high value to me, so it's certainly worth having them in every new need to cover.
The design and professional knowledge as tools for performance optimized according to client resources, to me this is the key to a good job.

Jordi Martin
driving of NORDICTHINK
Very professional, they got involved in the project more than me, I can say that I received more than I expected ...

Nikolay Kolev
founder of MULTIGRUP
They are oriented to results in communication, long exceeding the usual supply of "design".
An essential tool for the growth of any company.
A challenge for those companies that do not have clear enough that they do or want to do.

R. Julián Escobar Uribe
CEO of ARQFORUM
We commissioned Abel designing our corporate image and after 4 years, we can say it was one of the decisions we're most proud of taking.
He invited us to reflect on who we wanted to be and managed to convey our essence through our image.
In short, we like our image much.
And reflects exactly what we are.
Miquel Estupiñá
Technical Director in CAPTAE
Efficiency, professionalism and good results.
This is what defines you.

Vanesa Martínez
Project Coordinator at EDULLEU
Because abeldb, we have a product that fits us and our clients and more importantly, a relationship with a trusted partner able to solve problems, offer solutions, and in which we can delegate responsibilities to focus on our work.
Richard Balet
Sinnaps Strategic Director
They have helped us a lot by carrying out projects to improve the corporate image, communication and positioning of our company.
Vivivana Lugo
Marketing Responsable
I have tried to find the meaning of these two words, communication and commitment, and I think that's how you can best define Abel with his work and dedication to our project.
Pedro Ramirez
Co-director of OUTLET Castelldefels
With abeldb we had a personalized, fast and efficient service with an end result that far exceeds initial expectations.
He has helped us focus our project from a communicative and visual aspect.

Francesc Calveras
Manger of ARQ rehabilita
What I like about working with you is that you are able to implement fully the ideas and theoretical plans.
Identification with our project 100% on your part.
Gunnar Ahrens
CEO of RELAXACTIVA
03/16/2017 - Do you want to comment?
Abel de Benito opines as an expert in Design section of the last issue of Guia Masters, magazine specialized...
Contact details
We are in Born neighborhood, in downtown of Barcelona.